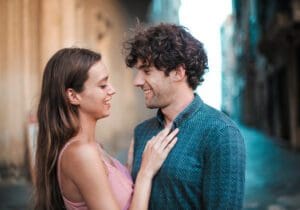 L'amore è un sentimento che non conosce confini, tanto meno quelli linguistici dettati da una non perfetta padronanza della lingua inglese.
Non per questo dobbiamo arrenderci e farci sfuggire una persona che ci piace o a cui comunque vogliamo mostrare il nostro apprezzamento.
Ecco quindi i migliori complimenti da fare a un ragazzo o a una ragazza in inglese (con traduzione) per flirtare e fare conquiste anche all'estero. Eccoli!
complimenti in inglese da fare a un Ragazzo o a una Ragazza (con traduzione)
You look gorgeous!
Sei bellissimo/a!
You are beyond gorgeous!
Sei più che stupendo/a!
I think you are very attractive!
Penso che tu sia molto attraente!
Wow, you are gorgeous!
Wow, sei bellissimo/a!
I think you are stunning!
Penso che tu sia sbalorditivo/a!
I love your curves.
Adoro le tue curve.
You just take my breath away.
Mi togli il fiato.
I love holding you in my embrace.
Adoro stringerti tra le mie braccia.
You are fabulous.
Sei favoloso/a.
You are in perfect shape.
Sei in perfetta forma.
I think you are super cute!
Penso che tu sia super carino/a!
You look absolutely fantastic!
Hai un aspetto assolutamente fantastico!
I love the way you look today!
Amo il tuo "look" di oggi!
You have looks to die for!
Hai uno sguardo per cui morire!
You're beyond gorgeous!
Sei oltremodo stupendo/a!
You look so radiant!
Se radioso/a!
You are so adorable!
Sei adorabile!
You are very pretty!
Sei molto carino/a!
You have the most beautiful eyes!
Hai degli occhi bellissimi!
You make my heart melt!
Mi sciogli il cuore!
I can't take my eyes off of you!
Non riesco a staccarti gli occhi di dosso!
You are heavenly!
Sei paradisiaco/a.
Your smile melts my heart!
Il tuo sorriso mi scioglie il cuore!
I think you're the most beautiful girl in the world!
Penso che tu sia la ragazza più bella del mondo!
I have never seen anyone as beautiful as you!
Non ho mai visto nessuno/a bello come te!
Your beauty is incomparable!
La tua bellezza è incomparabile!
You look like an angel!
Sembri un angelo!
You have the most beautiful smile!
Hai il sorriso più bello!
You have the most beautiful lips!
Hai le labbra più belle!
I think you're very attractive!
Penso che tu sia molto attraente!
You look stunningly beautiful!
Sei incredibilmente bello/a!
You look hot!
Hai un aspetto sexy!
Watching you is like listening to angels sing!
Guardarti è come ascoltare gli angeli cantare!
You are beautiful inside and out!
Sei bella dentro e fuori!
Your skin is so soft!
La tua pelle è così morbida!
You are a beautiful specimen!
Sei un bellissimo esemplare!
You're delicious!
Sei delizioso/a!
Why are you so cute?
Come fai a essere così carino/a?
I really like getting to know you.
È un vero piacere conoscerti.
You're pretty much my dream guy/girl.
Sei praticamente il ragazzo / la ragazza dei miei sogni.
The more time I spend with you, the more I want to keep spending time with you.
Più tempo passo con te, più voglio continuare a passare del tempo con te.
I can't sleep. I blame you.
Non riesco a dormire. Ed è colpa tua.
You make my heart happy.
Rendi felice il mio cuore.
I like you. More than a lot.
Mi piaci. Più di tanto.
I wish you were here next to me right now.
Vorrei che adesso tu fossi qui accanto a me.
Everything about you makes me smile.
Tutto di te mi fa sorridere.
I like your style.
Mi piace il tuo stile.
Your hair looks amazing.
I tuoi capelli sono fantastici.
Nobody makes me happier than you.
Nessuno mi rende più felice di te.
You are so smart.
Sei così intelligente.
I could listen to you for hours.
Potrei ascoltarti per ore.
You are perfect just the way you are.
Sei perfetto/a così come sei.
You always know how to surprise me.
Sai sempre come sorprendermi.
You're hilarious!
Sei divertente!
You're not like anyone I've met before.
Non sei come nessuno/a che abbia mai incontrato prima.
I'm better when I'm with you.
Quando sono con te mi sento bene.