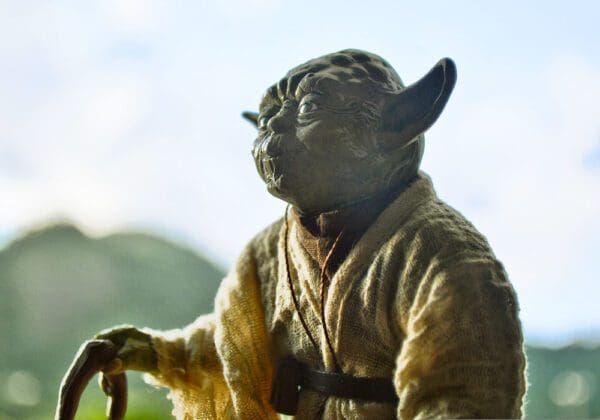 Yoda è uno dei personaggi più amati della serie fantascientifica Star Wars, chiamata anche in italiano Guerre Stellari.
Un personaggio simbolo di forza, saggezza e umiltà che parla una strana lingua, il basic galattico, particolarmente originale e caratteristica.
Qui di seguito le più belle e famose frasi di Yoda (in inglese e italiano) che più sono entrate nel linguaggio comune dei suoi tanti fan. Eccole!
Aforismi, citazioni e frasi di Yoda (in inglese e italiano)
Luminous beings are we, not this crude matter.
Esseri luminosi siamo, non questa materia grezza.
You must unlearn what you have learned.
Devi disimparare ciò che hai imparato.
No! Try not. Do. Or do not. There is no try.
No! Provare no. Fare! O non fare. Non c'è provare!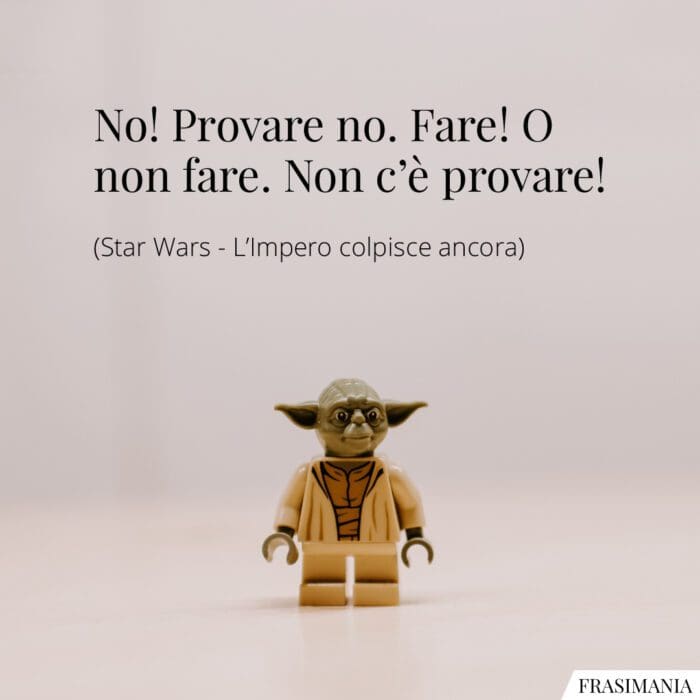 Anger, fear, aggression. The dark side are they.
Rabbia, paura, violenza: sono loro il Lato Oscuro.
Wars not make one great.
Guerra non fa nessuno grande.
Always with you, it cannot be done.
Sempre per te non può essere fatto.
Size matters not. Look at me. Judge me by my size, do you? And well you should not… for my ally is the Force. And a powerful ally it is.
Le dimensioni non contano. Guardami. Mi giudichi dalla mia statura, eh? E beh, non dovresti… perché il mio alleato è la Forza, e un potente alleato lo è.
Train yourself to let go of everything you are afraid to lose.
Allenati a lasciare andare tutto quello che hai paura di perdere.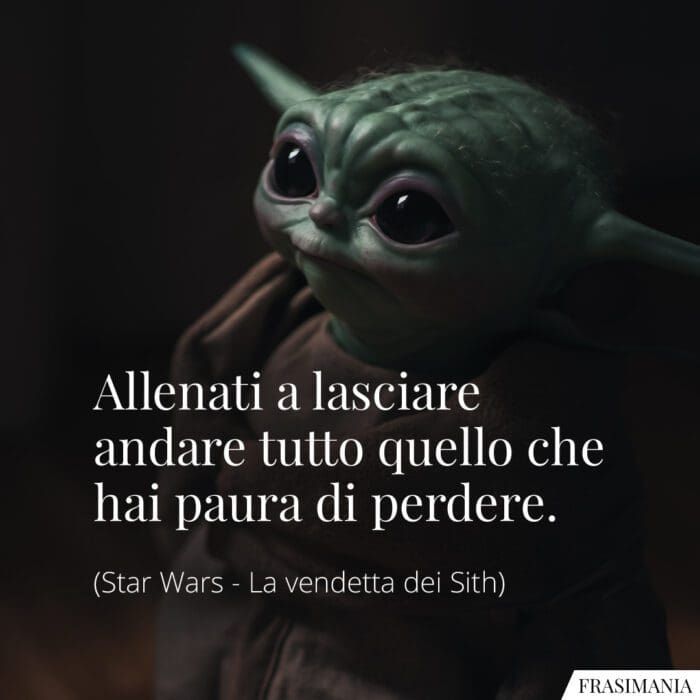 A Jedi uses the Force for knowledge and defense, never for attack.
Uno Jedi usa la Forza per la conoscenza e la difesa, mai per l'attacco.
A Jedi's strength flows from the Force.
Il vigore di un Jedi scaturisce dalla Forza.
Much to learn you still have.
Molto da apprendere ancora tu hai.
Feel the Force!
Senti la forza!
Control, control, you must learn control!
Controllo, controllo, devi imparare il controllo!
Pass on what you have learned.
Trasmetti ciò che imparato hai.
Smaller in number are we, but larger in mind.
Minori di numero siamo, ma superiori di mente.
When 900 years old, you reach… Look as good, you will not.
Quando 900 anni di età avrai, bello non sembrerai.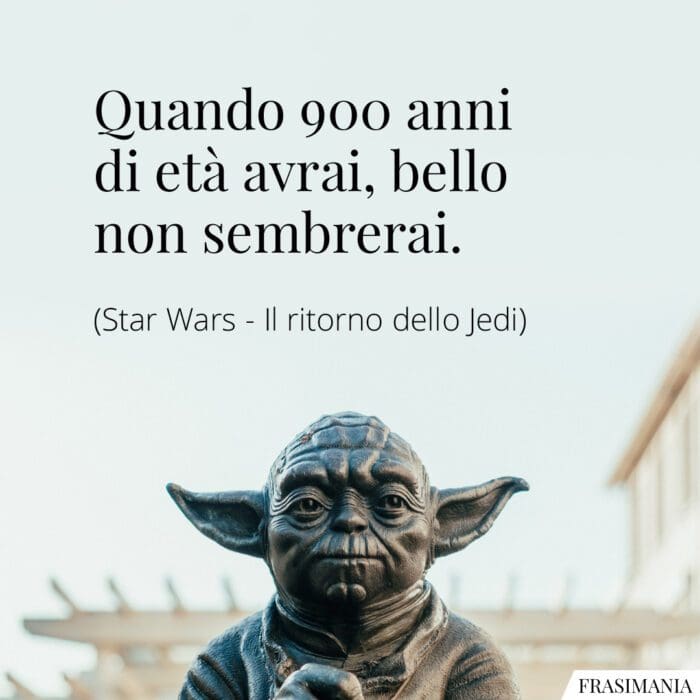 Difficult to see. Always in motion is the future.
Difficile da vedere è. Sempre in movimento il futuro è.
Truly wonderful the mind of a child is.
Meravigliosa la mente di bambino è.
You will find only what you bring in.
Solo ciò che con te porterai.
Always two there are, no more, no less. A master and an apprentice.
Sempre due ci sono, né più, né meno. Un maestro e un apprendista.
Hard to see the dark side is.
Arduo da vedere il Lato Oscuro è.
Deceive you, eyes can. In the force, very different each one of you are.
Ingannarvi gli occhi, possono. Nella Forza, molto diverso ognuno di voi è.
Attachment leads to jealousy. The shadow of greed, that is.
L'attaccamento porta alla gelosia. L'ombra dell'avidità essa è.
Fear is the path to the dark side. Fear leads to anger. Anger leads to hate. Hate leads to suffering.
La paura è la via per il Lato Oscuro. La paura conduce all'ira. L'ira all'odio. L'odio conduce alla sofferenza.
Death is a natural part of life. Rejoice for those around you who transform into the Force. Mourn them do not. Miss them do not.
La morte una parte naturale della vita è. Rallegratevi per quelli intorno a voi che nella Forza si trasformano. Piangerli non dovete. Rimpiangerli nemmeno.