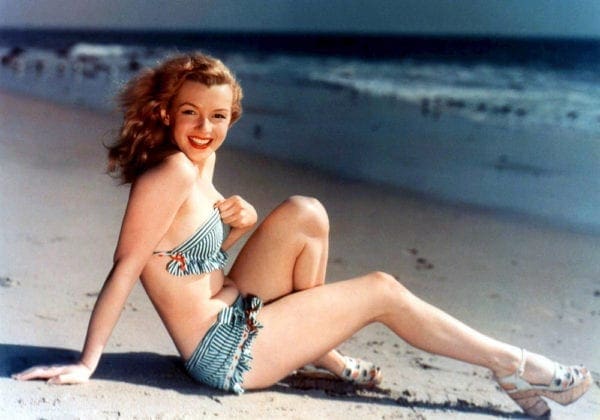 Marilyn Monroe è stata probabilmente la più grande diva del cinema di sempre. Icona assoluta di stile e bellezza, incarna ancora oggi il simbolo della bionda svampita capace di sedurre gli uomini solo con uno sguardo.
Ma la vita di Marilyn Monroe è ben diversa da quanto si possa immaginare. Da piccola è costretta a vivere presso vari orfanotrofi, abbandonata dal padre e con una madre affetta da gravi disturbi mentali. Crescendo viene notata da un fotografo che la convince a diventare modella. In pochi anni questo lavoro le apre le porte di Hollywood. Successivamente conosce e frequenti gli uomini più potenti e famosi d'America, fino a quella notte fra il 4 e il 5 agosto 1962, quando viene trovata morta per overdose in circostanze piuttosto misteriose.
Qui di seguito abbiamo raccolto le più belle frasi di Marilyn Monroe in Inglese tradotte in italiano che ce ne svelano il personaggio, ma anche il lato più profondo. Eccole!
Aforismi, citazioni e frasi di Marilyn Monroe in Inglese (con traduzione)
Give a girl the right shoes and she can conquer the world.
Date ad una donna le scarpe giuste e conquisterà il mondo.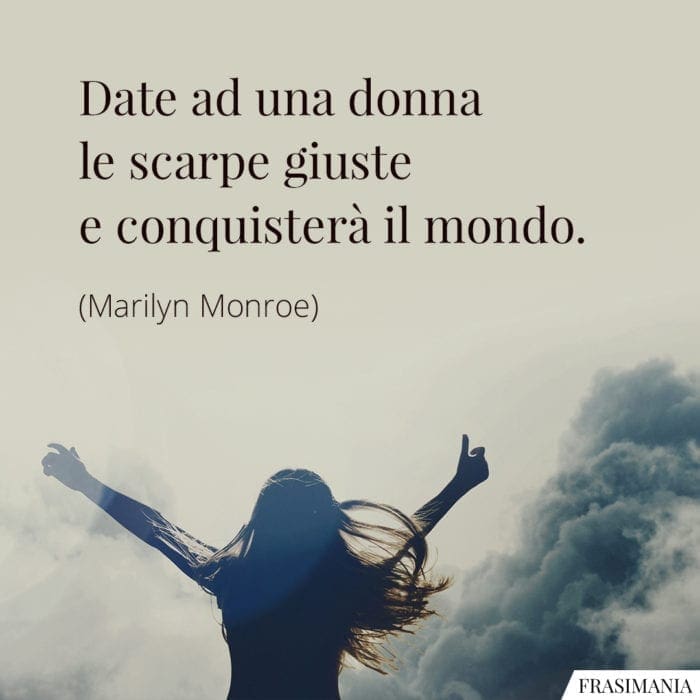 I'm selfish, impatient and a little insecure. I make mistakes, I am out of control and at times hard to handle. But if you can't handle me at my worst, then you sure as hell don't deserve me at my best.
Sono egoista, impaziente e un po' insicura. Commetto errori, sono fuori controllo e, allo stesso tempo, difficile da gestire. Ma se non sei in grado di gestire il mio lato peggiore, allora certamente non sarai in grado di gestire quello migliore.
We are all of us stars, and we deserve to twinkle.
Siamo tutti stelle, e meritiamo di brillare.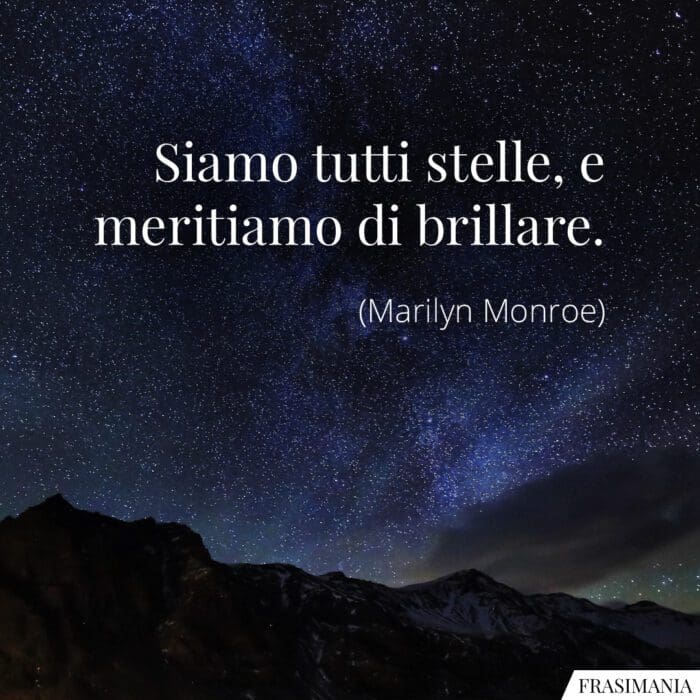 A smart girl leaves before she is left.
Una ragazza intelligente se ne va prima di essere lasciata.
What do I wear in bed? Why, Chanel No. 5, of course.
Cosa metto quando vado a letto? Qualche goccia di Chanel n°5, naturalmente.
Happiness is not in money, but in shopping.
La felicità non si trova nei soldi, ma nello spenderli.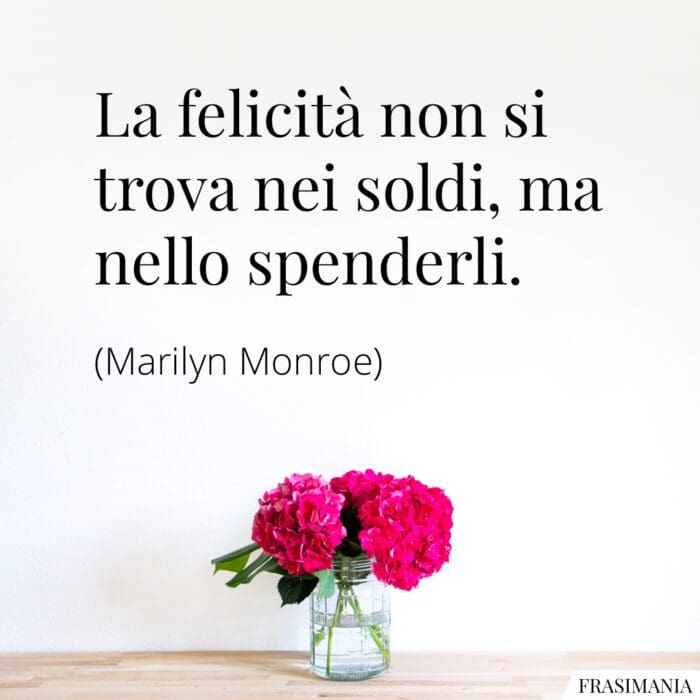 If you can make a girl laugh, you can make her do anything.
Se riesci a far ridere una ragazza, puoi farle fare qualsiasi cosa.
Hollywood is a place where they'll pay you a thousand dollars for a kiss and fifty cents for your soul.
Hollywood è un posto dove ti pagano migliaia di dollari per un bacio, e cinquanta centesimi per l'anima.
When love ends, one of them suffers. If anyone does not suffer, it never began. If you suffer from both, is never done.
Quando un amore finisce, uno dei due soffre. Se non soffre nessuno, non è mai iniziato. Se soffrono entrambi, non è mai finito.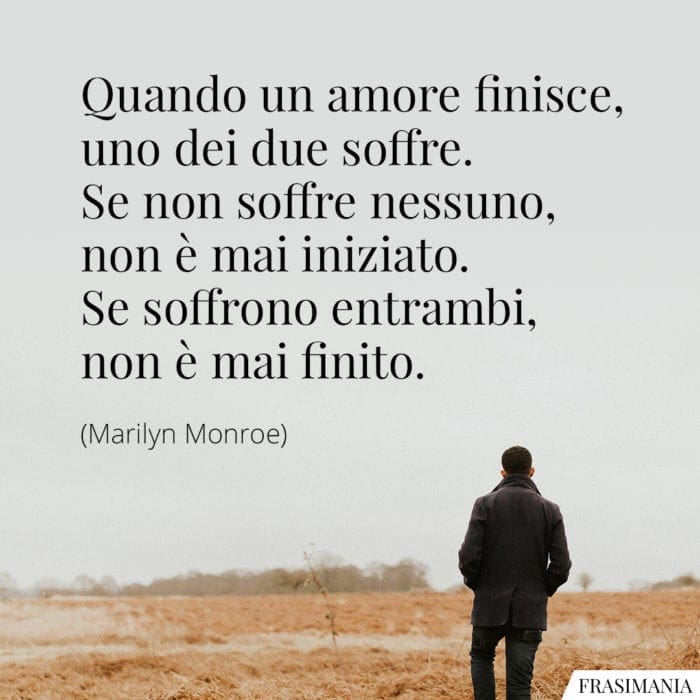 I believe that everything happens for a reason. People change so that you can learn to let go, things go wrong so that you appreciate them when they're right.
Io credo che tutto accada per una ragione. Le persone cambiano perché tu possa imparare a lasciarle andare, le cose vanno male perché tu le possa apprezzare quando invece vanno bene.
Fame doesn't fulfill you. It warms you a bit, but that warmth is temporary.
Il succeso non ti appaga. Ti scalda un po', ma è un calore temporaneo.
We should all start to live before we get too old. Fear is stupid. So are regrets.
Dovremmo tutti iniziare a vivere prima di diventare troppo vecchi. La paura è stupida, e lo sono anche i rimpianti.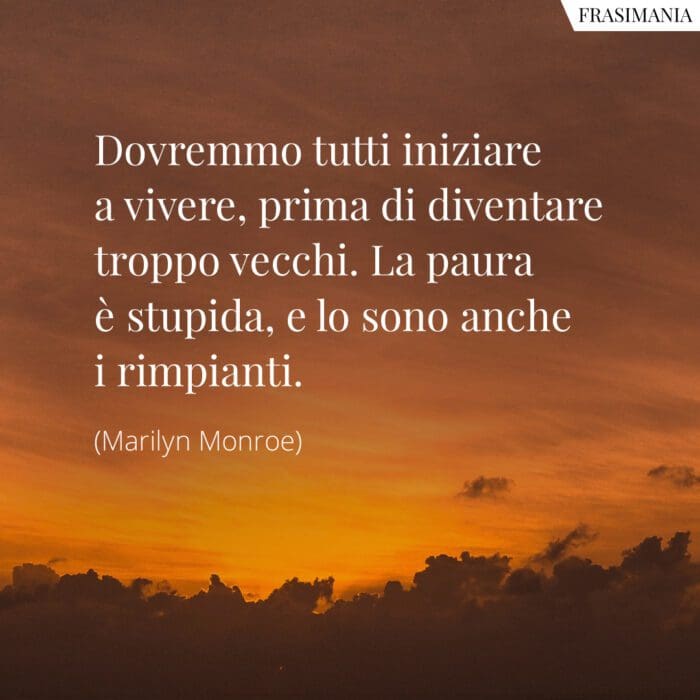 I think that sexuality is only attractive when it's natural and spontaneous.
Penso che la sessualità sia attraente solo quando è naturale e spontanea.
Every woman deserves a man to ruin her lipstick, not her mascara.
Ogni donna merita un uomo che le rovini il rossetto, non il mascara.
If I'd observed all the rules I'd never have got anywhere.
Se avessi osservato tutte le regole, non sarei mai arrivata da nessuna parte.
Sometimes good things fall apart so better things can fall together.
Qualche volta le cose buone vanno in frantumi affinché cose migliori possano arrivare.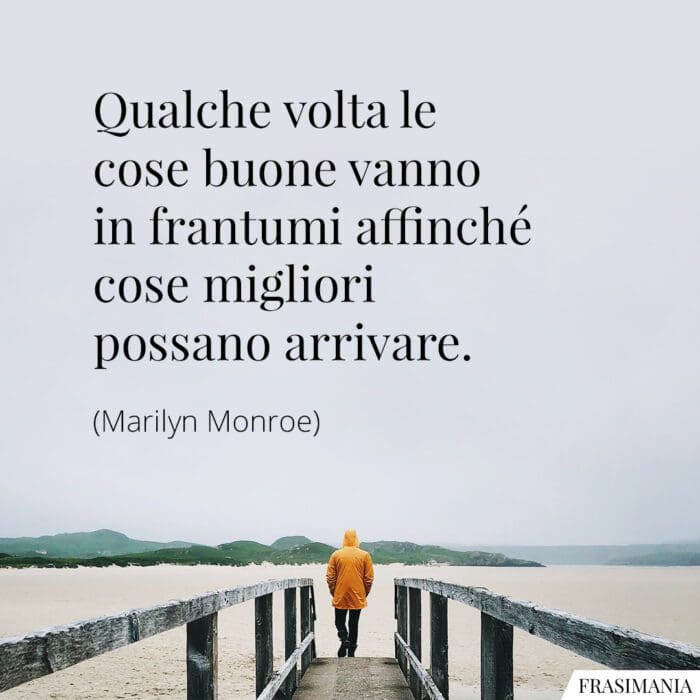 A girl doesn't need anyone who doesn't need her.
Una ragazza non ha bisogno di nessuno che non abbia bisogno di lei.
The body is meant to be seen, not all covered up.
Il corpo è fatto per essere visto, non per essere coperto.
I'm not interested in money, I just want to be wonderful.
Non sono interessata al denaro, voglio solo essere meravigliosa.
I'm very definitely a woman and I enjoy it.
Sono decisamente una donna e mi piace.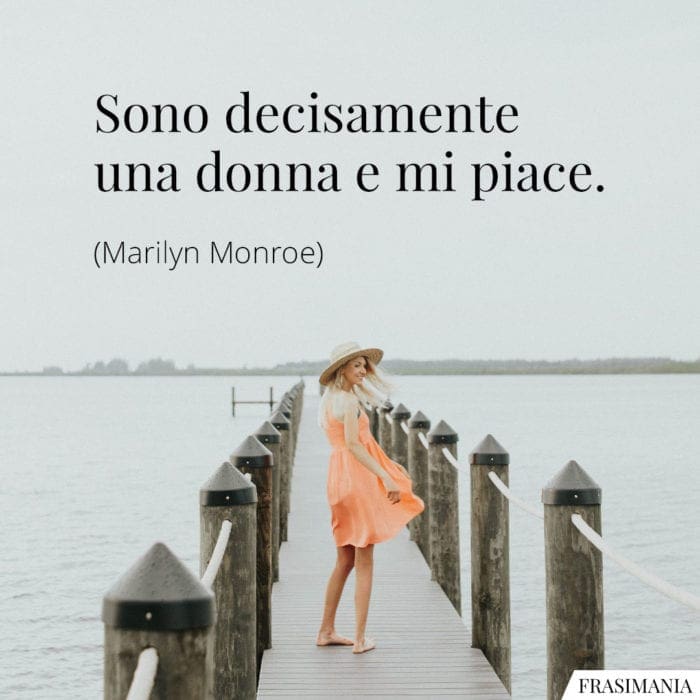 I don't mind living in a man's world as long as I can be a woman in it.
Non m'importa di vivere in un mondo di uomini, purché io possa viverci da donna.
Cutting negative people from my life does not mean I hate them, it simply means I respect me.
Tagliare i legami con le persone negative dalla mia vita non significa che le odio, significa semplicemente che mi rispetto.
Being a sex symbol is a heavy load to carry, especially when one is tired, hurt and bewildered.
Essere un sex symbol è un peso pesante da trasportare, soprattutto quando si è stanchi, feriti e sconcertati.
Keep smiling, because life is a beautiful thing and there's so much to smile about.
Continua a sorridere, perché la vita è una cosa meravigliosa e c'è così tanto da sorridere.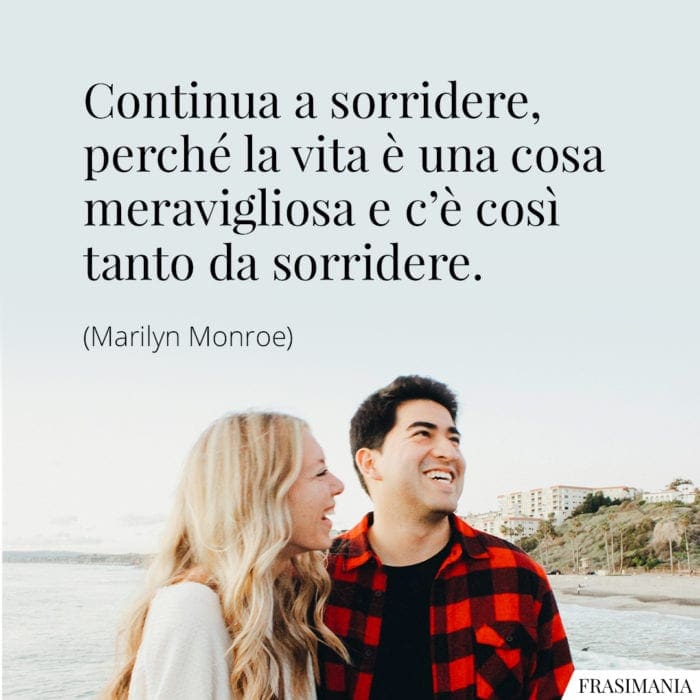 If you don't love me at my worst, then you don't deserve me at my best.
Se non riesci a sopportare il mio peggio, puoi star certo che non meriti il mio meglio.
A wise girl kisses but doesn't love, listens but doesn't believe, and leaves before she is left.
Una ragazza saggia bacia ma non ama, ascolta ma non crede e lascia prima di essere lasciata.
Wanting to be someone else is a waste of the person you are.
Voler essere qualcun altro è uno spreco della persona che sei.
Imperfection is beauty, madness is genius and it's better to be absolutely ridiculous than absolutely boring.
L'imperfezione è bellezza, la pazzia è genialità, ed è meglio essere assolutamente ridicoli che assolutamente noiosi.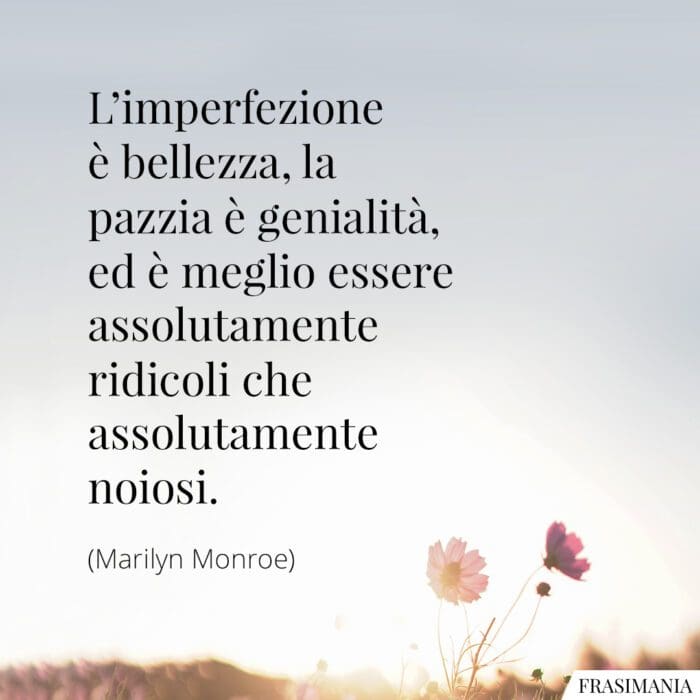 The real lover is the man who can thrill you by kissing your forehead or smiling into your eyes or just staring into space.
Il vero amore è l'uomo che ti fa emozionare baciandoti la fronte, sorridendo nei tuoi occhi o semplicemente fissando il vuoto.
It's far better to be unhappy alone than unhappy with someone.
È molto meglio essere infelici da soli che infelici in compagnia.
It's far better to be unhappy alone than unhappy with someone.
È meglio essere infelici da soli che essere infelici con qualcuno.
A career is wonderful, but you can't curl up with it on a cold night.
La carriera è una cosa meravigliosa, ma non puoi abbracciala di notte quando fa freddo.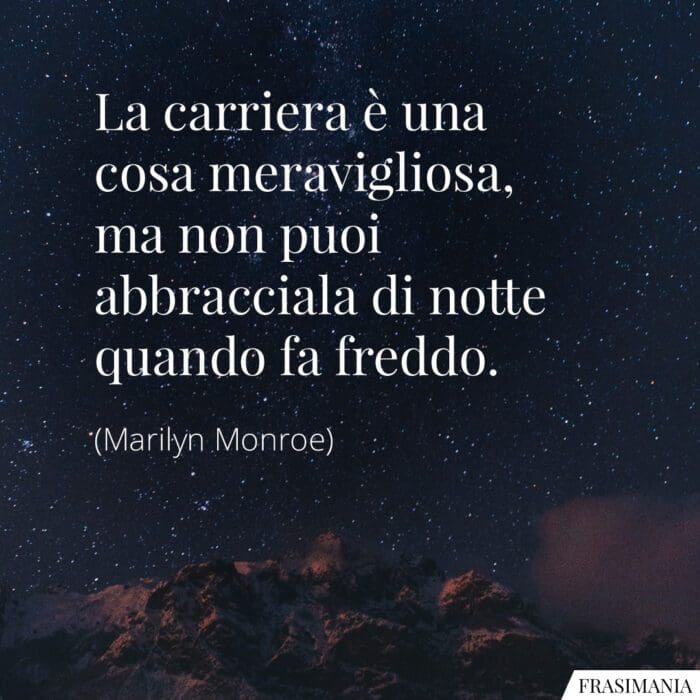 All little girls should be told they are pretty, even if they aren't.
A tutte le bambine dovrebbe essere detto che sono carine, anche quando non lo sono.
The nicest thing for me is sleep, then at least I can dream.
La cosa più bella per me è dormire, così almeno posso sognare.
Dogs never bite me. Just humans.
I cani non mi hanno mai morso. Solo gli esseri umani.
A wise girl knows her limits, a smart girl knows that she has none.
Una ragazza saggia conosce i suoi limiti, ma una intelligente sa che non ne ha.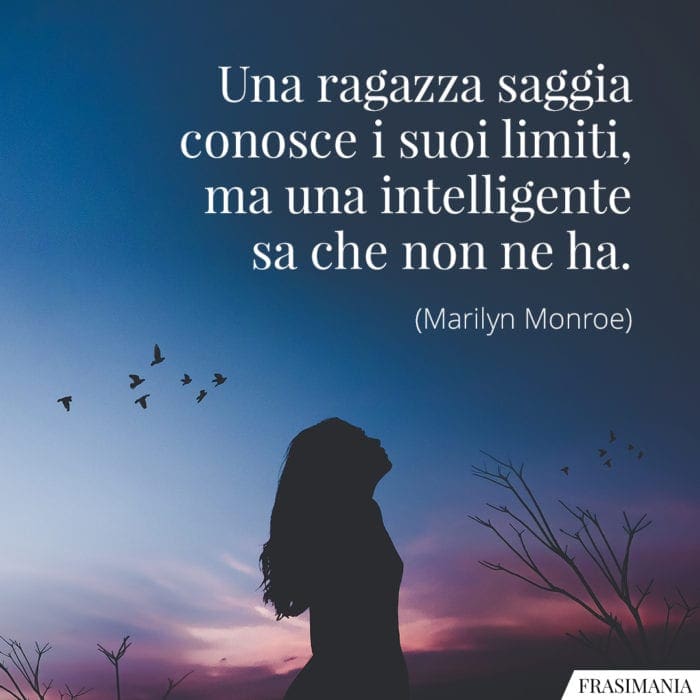 Just because you fail once doesn't mean you're gonna fail at everything.
Solo perché fallisci una volta non significa che fallirai in tutto.
I live to suceed, not to please you or anyone else.
Vivo per avere successo, non per compiacere te o qualcun altro.
Dreaming about being an actress, is more exciting then being one.
Sognare di essere un'attrice è molto più eccitante che esserlo.
Don't stop when you're tired; stop when you're done.
Non fermarti quando sei stanco, fermati quando hai finito.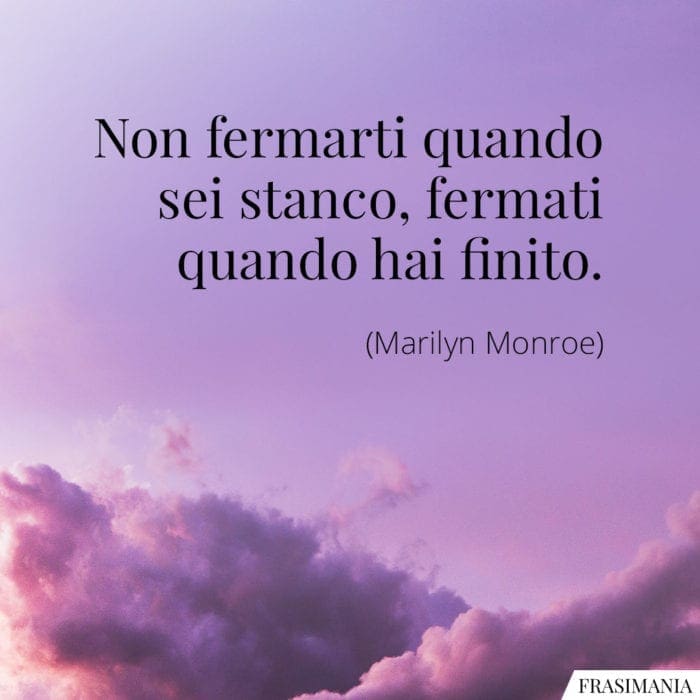 I don't know who invented high heels, but all women owe him a lot.
Non so chi abbia inventato i tacchi alti, ma tutte le donne gli devono molto.
I sin, but I'm not the devil.
Ho peccato, ma non sono il diavolo.
To all the girls that think you're fat because you're not a size zero, you're the beautiful one, its society who's ugly.
A tutte le donne che pensano di essere grasse perché non entrano in una "taglia zero" dico: siete bellissime, è la società ad essere brutta.
Who said nights were for sleep?
Chi ha detto che le notti siano fatte per dormire?
Women who seek to be equal with men lack ambition.
Le donne che cercano di essere uguali agli uomini mancano di ambizione.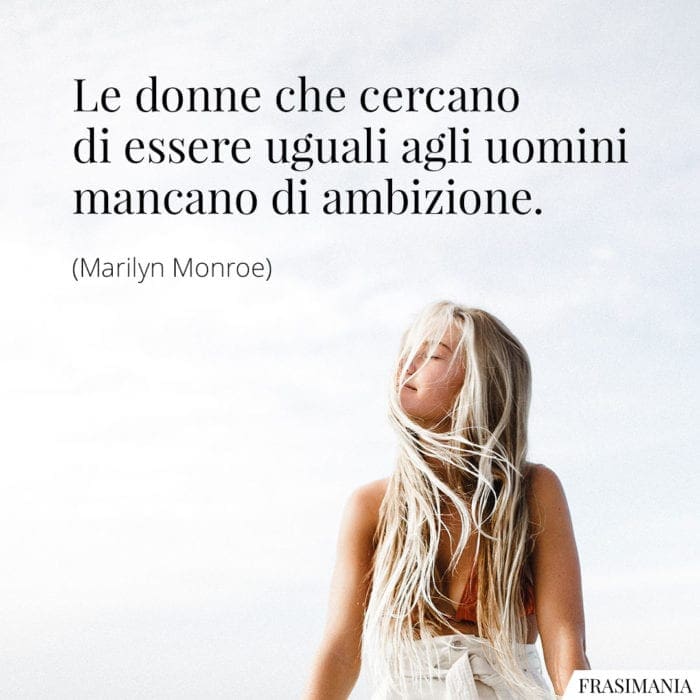 Promises are worse than lies. You don't just make them believe, you also make them hope.
Le promesse sono peggiori delle bugie. Non li fai solo credere, ma li fai anche sperare.
The more I think of it, the more I realize there are no answers. Life is to be lived.
Più ci penso, più mi rendo conto che non ci sono risposte. La vita deve essere vissuta.
I don't forgive people because I'm weak, I forgive them because I am strong enough to know people make mistakes.
Non perdono le persone perché sono debole, le perdono perché sono abbastanza forte da sapere che le persone commettono errori.
Boys think girls are like books, If the cover doesn't catch their eye they won't bother to read what's inside.
I ragazzi pensano che le ragazze siano come i libri, se la copertina non attira la loro attenzione non si preoccuperanno di leggere cosa c'è dentro.
If there is only one thing in my life that I am proud of, it's that I've never been a kept woman.
Se c'è una sola cosa nella mia vita di cui sono orgogliosa, è che non mi sono mai fatta mantenere da nessuno.