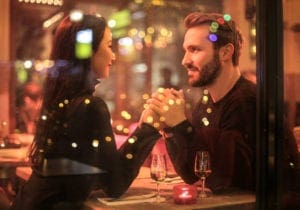 Il rimorchio è considerato una vera e propria forma d'arte che vede tutta una serie di esperti in seduzione pronti a spiegarci tutti i metodi, a loro dire, infallibili. Effettivamente, a volte, certi metodi possono anche funzionare, ma per quanto ci riguarda pensiamo che l'importante sia mostrarsi semplicemente per quello che si è.
Comunque, approcciare una persona che ci piace non è per niente facile, soprattutto quando si tratta di usare una lingua straniera come l'inglese.
Ecco quindi una selezione delle più efficaci frasi per rimorchiare (in inglese e italiano) che ci potranno servire da spunto per rompere il ghiaccio e (si spera) conquistare la persona che più ci attrae. Scoprile subito!
Frasi per rimorchiare in inglese (con traduzione)
I'm new in town. Could you give me directions to your apartment?
Sono nuovo in città. Potresti darmi le indicazioni per il tuo appartamento?
Do you believe in love at first sight or should I pass by again?
Credi nell'amore a prima vista o dovrei passarti di nuovo davanti?
Are you religious? Because you're the answer to all my prayers.
Sei religiosa? Perché tu sei la risposta a tutte le mie preghiere.
There is something wrong with my cell phone. It doesn't have your number in it.
C'è qualcosa che non va nel mio cellulare. Manca il tuo numero.
Are you a magician? Because whenever I look at you, everyone else disappears.
Sei un maga? Ogni volta che ti guardo, tutte le altre scompaiono.
Are you a time traveler? Cause I see you in my future.
Sei un viaggiatore del tempo? Perché ti vedo nel mio futuro.
Do you know if there are any police around? Cause I'm about to steal your heart.
Sai se ci sono poliziotti in giro? Perché sto per rubare il tuo cuore.
If you were a potato you'd be a sweet one.
Se fossi una patata, saresti una di quelle dolci.
Was you father an alien? Because there's nothing else like you on Earth!
Tuo padre era un alieno? Perché non c'è nient'altro come te sulla Terra!
I must be in a museum, because you truly are a work of art.
Devo essere in un museo, perché sei veramente un'opera d'arte.
Are you a dictionary? Cause you're adding meaning to my life.
Sei un dizionario? Perché stai aggiungendo significato alla mia vita.
What time do you have to be back in heaven?
A che ora devi tornare in paradiso?
If nothing lasts forever, will you be my nothing?
Se nulla dura per sempre, vuoi essere il mio nulla?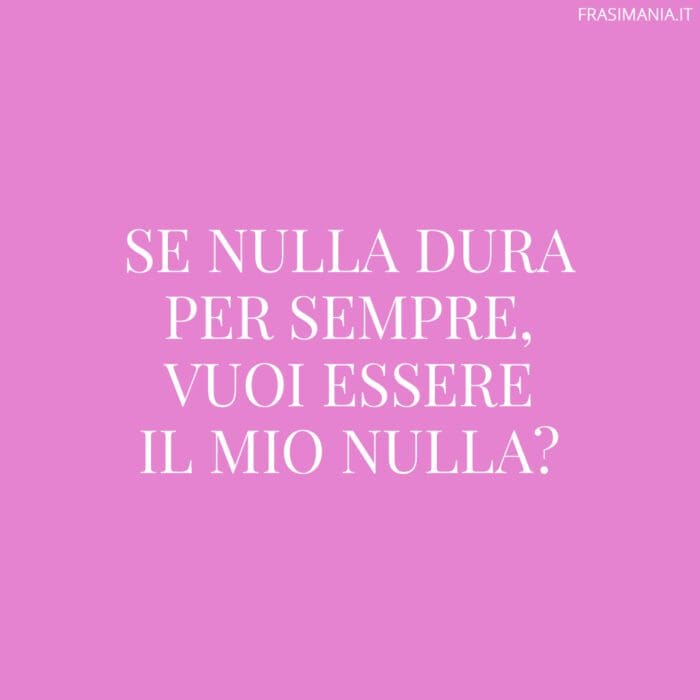 I'd never play hide and seek with you because someone like you is impossible to find.
Non giocherei mai a nascondino con te perché una come te è impossibile da trovare.
Your hand looks heavy… can I hold it for you?
La tua mano sembra pesante… posso tenerla per te?
If being in love was illegal, will you be my partner in crime?
Se essere innamorati fosse illegale, vuoi essere la mia complice?
Do I know you? Cause you look a lot like my next girlfriend.
Ti conosco? Assomigli molto alla mia prossima ragazza.
I'm lost. Can you give me directions to your heart?
Mi sono perso. Puoi darmi le indicazioni per il tuo cuore?
You know what you would really look beautiful in? My arms.
Sai cosa ti starebbe davvero bene? Le mie braccia.
Excuse me, I think you have something in your eye. Oh wait, it's just a sparkle.
Scusa, penso che tu abbia qualcosa nell'occhio. Oh aspetta, è solo una scintilla.
My mom thinks I'm gay, can you help me prove her wrong?
Mia madre pensa che io sia gay, puoi aiutarmi a dimostrare che ha torto?
There isn't a word in the dictionary for how good you look.
Non c'è una parola nel dizionario per esprimere quanto sei bella.
Be unique and different, say yes.
Sii unica e diversa, dì di si.
Are you Netflix? Because I could watch you for hours.
Sei Netflix? Perché potrei guardarti per ore.
Do you have a name or can I call you mine?
Hai un nome o posso chiamarti mia?
I'm not actually this tall. I'm sitting on my wallet.
In realtà non sono così alto. Sono seduto sul mio portafoglio.
Are you a camera? Because every time I look at you, I smile.
Sei una macchina fotografica? Perché ogni volta che ti guardo sorrido.
Can I follow you? Because my mom told me to follow my dreams.
Posso seguirti? Perché mia madre mi ha detto di seguire i miei sogni.
I should call you Google, because you have everything I'm looking for.
Dovrei chiamarti Google, perché hai tutto quello che sto cercando.
I don't really believe in love at first sight, until I saw you.
Non credevo davvero nell'amore a prima vista, finché non ti ho vista.
Your lips look so lonely… Would they like to meet mine?
Le tue labbra sembrano così sole… Vorrebbero incontrare le mie?
Pinch me, you're so fine I must be dreaming.
Dammi un pizzicotto, sei così bella che credo di essere in un sogno.
How much does a polar bear weight? Enough to break the ice!
Quanto pesa un orso polare? Basta rompere il ghiaccio!
I was wondering if you had an extra heart. Mine was just stolen.
Mi stavo chiedendo se avessi un cuore in più. Il mio è stato appena rubato.
Nice to meet you, I'm (your name) and you are… gorgeous!
Piacere di conoscerti, io sono (il tuo nome) e tu sei… stupenda!
On a scale from 1 to 10, you're a 9… And I'm the 1 you need.
Su una scala da 1 a 10, sei un 9… E io sono l'1 di cui hai bisogno.
I'll give you a kiss. If you don't like it, you can return it.
Ti darò un bacio. Se non ti piace, puoi restituirmelo.
Kiss me if I'm wrong, but dinosaurs still exist, right?
Se sbaglio baciami, ma i dinosauri esistono ancora, giusto?
You see my friend over there? He wants to know if you think I'm cute.
Vedi il mio amico laggiù? Vuole sapere se pensi che io sia carino.
I think there's something wrong with my eyes… I can't take them off of you.
Penso di avere un problema agli occhi… Non riesco a staccarli da te.
Are you an architect? Because I can imagine building a relationship with you.
Sei un architetto? Perché potrei pensare di costruire una relazione con te.
If your heart was a prison, I would like to be sentenced for life.
Se il tuo cuore fosse una prigione, vorrei essere condannato all'ergastolo.
Is there an airport nearby or is that just my heart taking off?
C'è un aeroporto nelle vicinanze o è solo il mio cuore che sta decollando?
I'm afraid of the dark… Will you sleep with me tonight?
Ho paura del buio… vuoi dormire con me stanotte?
I know somebody who likes you but if I weren't so shy, I'd tell you who.
Conosco qualcuno a cui piaci, ma se non fossi così timido, ti direi chi è.
I lost my teddy bear. Can I sleep with you tonight?
Ho perso il mio orsacchiotto. Posso dormire con te stasera?
I may not be the best looking guy here, but Im the only one talking to you.
Potrei non essere il ragazzo più bello qui, ma sono l'unico a parlare con te.
Are you as beautiful on the inside as you are on the outside?
Sei così bello dentro come sei fuori?
You know, sweetie, my lips won't just kiss themselves…
Sai, dolcezza, le mie labbra non si bacieranno da sole…
I'll cook you dinner, if you cook me breakfast.
Ti cucinerò la cena, se mi cucini la colazione.
What does it feel like to be the most beautiful girl in the room?
Come ci si sente ad essere la ragazza più bella della stanza?