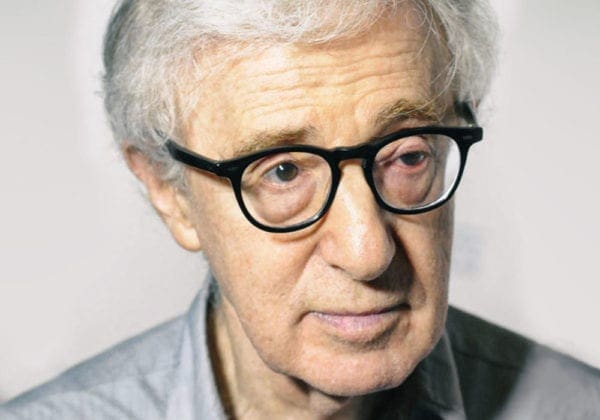 Woody Allen è uno dei più grandi registi e sceneggiatori di sempre. Con diverse decine film da lui scritti e girati, più tutti quelli on cui ha solo recitato come attore, ha fatto ridere e sognare generazioni intere.
La sua carriera inizia infatti dagli anni '60 e arriva fino ad oggi. I suoi tanti film come ad esempio "Io e Annie", "Manhattan", "Provaci ancora, Sam" o "Il dormiglione", solo per citarne alcuni, lo hanno consacrato genio assoluto del cinema e dell'umorismo.
Ecco quindi una selezione delle più belle frasi di Woody Allen (in inglese e italiano) che più ci hanno divertire, ma anche riflettere. Scoprile subito!
Aforismi, citazioni e frasi di Woody Allen in inglese (con traduzione)
I'd never join a club that would allow a person like me to become a member.
Non vorrei mai far parte di un club che accetti tra i suoi iscritti un tipo come me.
I'm not afraid of death; I just don't want to be there when it happens.
Non ho paura della morte. È solo che non vorrei essere lì quando questo succede.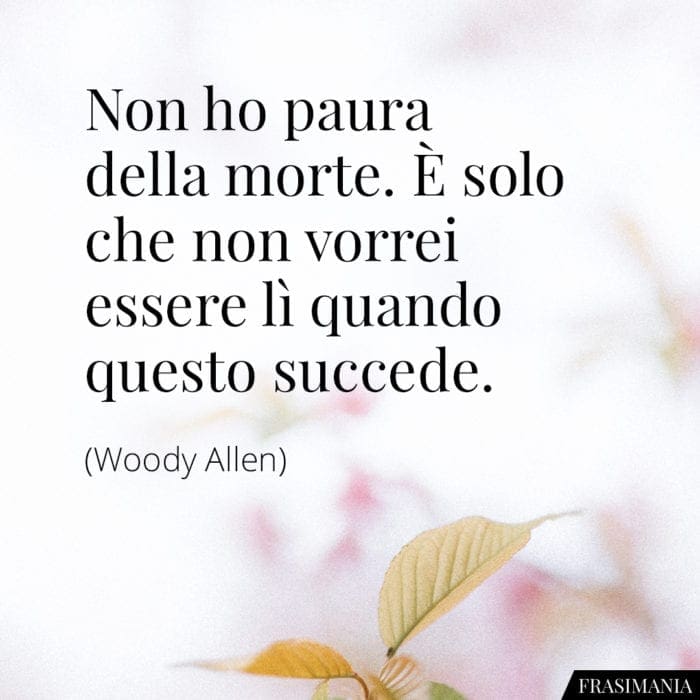 The best things in life are censored.
Le cose migliori della vita sono censurate.
I don't know the question, but sex is definitely the answer.
Non conosco la domanda, ma il sesso è sicuramente la risposta.
I hate reality, but it's still the best place to get a good steak.
Io odio la realtà, ma è ancora il miglior posto dove trovare una buona bistecca.
There are two types of people in this world, good and bad. The good sleep better, but the bad seem to enjoy the waking hours much more.
Il mondo si divide in buoni e cattivi. I buoni dormono meglio, ma i cattivi, da svegli, si divertono molto di più.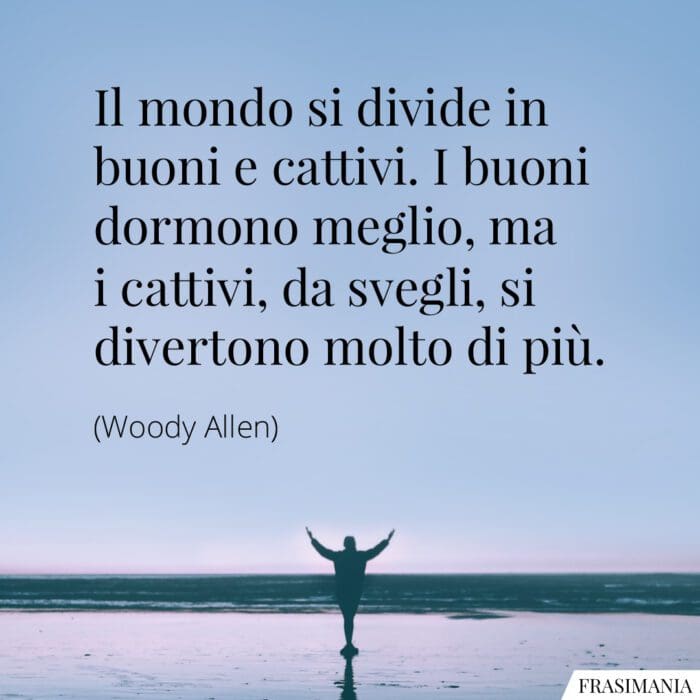 I'm such a good lover because I practice a lot on my own.
Sono un buon amante perché mi alleno molto da solo.
My brain? That's my second favorite organ.
Il mio cervello? È il mio secondo organo preferito.
I believe there is something out there watching us. Unfortunately, it's the government.
Credo che ci sia qualcosa là fuori che ci guarda. Sfortunatamente, è il governo.
It's very hard to get your heart and head together in life. Let me teach you that, you know. In my case, they're not even friendly.
È molto, molto difficile mettere d'accordo cuore e cervello. Pensa che, nel mio caso, non si rivolgono nemmeno la parola.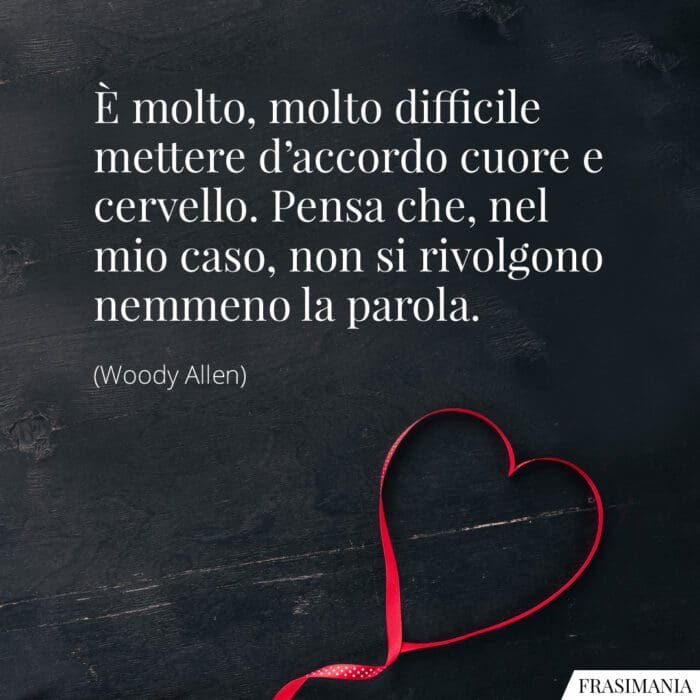 What if everything is an illusion and nothing exists? In that case, I definitely overpaid for my carpet.
Se tutto fosse illusione e nulla esistesse? In questo caso avrei speso decisamente troppo per il mio tappeto.
My one regret in life is that I am not someone else.
L'unico rimpianto della mia vita è di non essere qualcun altro.
Men learn to love the woman they are attracted to. Women learn to become attracted to the man they fall in love with.
Gli uomini imparano ad amare la persona dalla quale sono attratti; le donne imparano ad essere attratte dalla persona che amano.
Life doesn't imitate art, it imitates bad television.
La vita non imita l'arte, imita la cattiva televisione.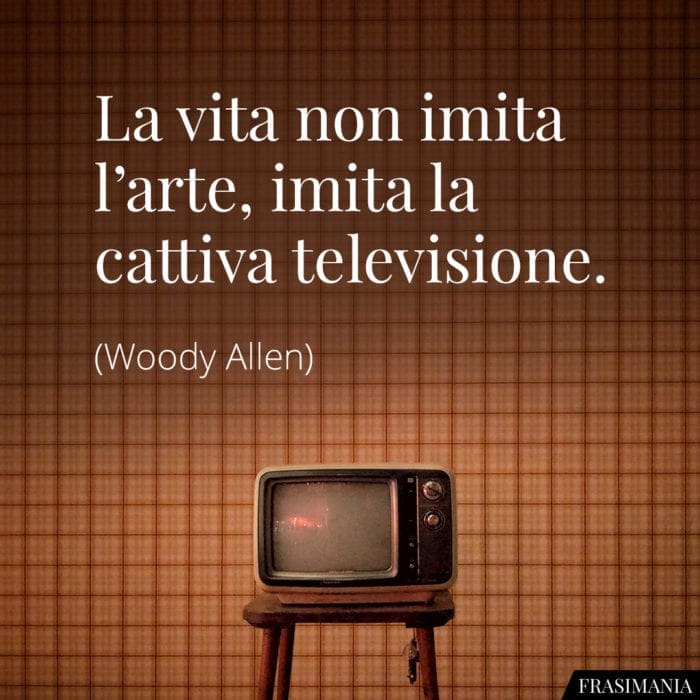 If only God would give me some clear sign! Like making a large deposit in my name at a swiss bank.
Se solo Dio mi desse un segno chiaro! Come fare un grosso deposito a mio nome in una banca svizzera.
If my films make one more person miserable, I'll feel I have done my job.
Se i miei film fanno sentire infelice una persona in più, sento di aver fatto il mio lavoro.
Is sex dirty? Only when it's being done right.
È sporco il sesso? Certo, ma solo se è fatto bene.
I idolized Superman when I was younger. I thought he and I had a lot in common. He was always going into phonebooths and taking off all his clothes.
Ho idolatrato Superman quando ero più giovane. Pensavo che lui e io avessimo molto in comune. Andava sempre nelle cabine telefoniche e si toglieva tutti i vestiti.
The advantage of being intelligent is that you can always act like an imbecile, whereas the opposite is impossible.
Il vantaggio di essere intelligente è che si può sempre fare l'imbecille, mentre il contrario è del tutto impossibile.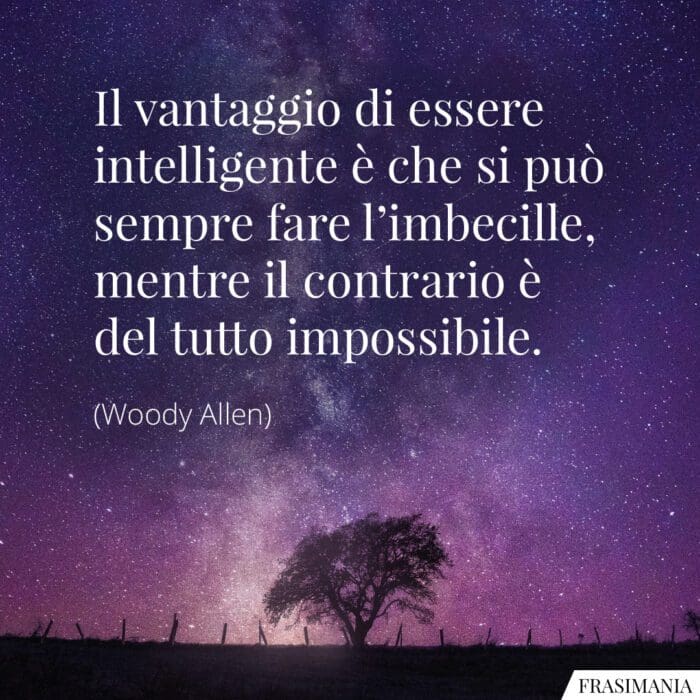 Most of the time I don't have much fun. The rest of the time I don't have any fun at all.
Il più delle volte non mi diverto granché. Il resto del tempo non mi diverto affatto.
All people know the same truth. Our lives consist of how we choose to distort it.
Tutti conosciamo la stessa verità: la nostra vita consiste in come scegliamo di distorcerla.
Having sex is like playing bridge. If you don't have a good partner, you'd better have a good hand.
Il sesso è come giocare a bridge. Se non hai un buon partner, spera almeno in una buona mano.
Confidence is what you have before you understand the problem.
La fiducia è ciò che hai prima di capire il problema.
Not only is there no God, but try finding a plumber on sunday.
Non solo Dio non esiste, ma provate a trovare un idraulico di domenica.
There are worse things in life than death. Have you ever spent an evening with an insurance salesman?
Ci sono cose peggiori della morte. Hai mai passato una serata con un assicuratore?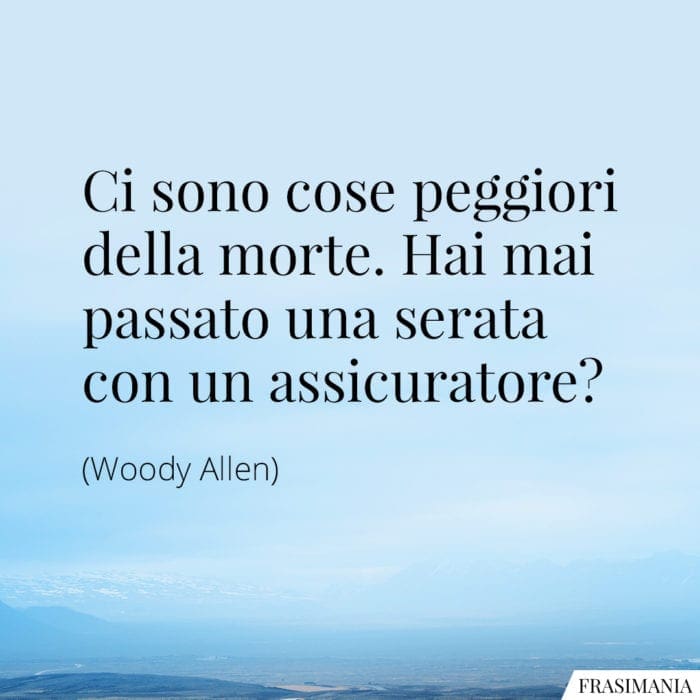 I don't believe in the after life, although I am bringing a change of underwear.
Non credo nell'aldilà, ma mi porto sempre dietro un cambio di biancheria.
If you want to make God laugh, tell him about your plans.
Se vuoi far ridere Dio, raccontagli i tuoi progetti.
Bisexuality immediately doubles your chances for a date on Saturday night.
Essere bisessuale raddoppia immediatamente le tue possibilità al sabato sera.
I didn't believe in reincarnation in my past life, and I still don't.
Non credevo nella reincarnazione nella mia vita passata, e ancora non lo faccio.
Sex is the most fun you can have without laughing.
Il sesso è la cosa più divertente che puoi fare senza ridere.
To you, I'm an atheist. To God, I'm the loyal opposition.
Per te sono un ateo, ma per Dio sono una leale opposizione.